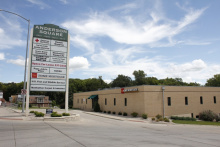 The professionals at Wildcat Property Management offer commercial, office and retail spaces for lease in the Manhattan, Kansas area. For nearly two decades, we have provided both established and startup companies with the space they need in profitable locations. Leasing with Wildcat means leasing with property owners who treat their tenants fairly. We own everything we manage, and have a vested interest in seeing our tenants prosper and grow their business.
Our commercial, office and retail spaces include:
A wide selection of sizes, from a single office to a complete office complex
Business and retail space located in the downtown area
Office and commercial space on the west side of Manhattan
Our maintenance staff responds to emergency calls immediately and normal service requests within 24 hours. With over 30 years of experience in the property management business, we offer a streamlined rental process with crystal clear lease agreements, letting you stay focused on your business.
Contact Wildcat Property Management today at 785-537-2332 and make an appointment to see our properties, or browse our website for more information regarding residential housing or laundromat services.
---